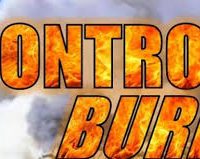 Controlled burn planned tomorrow on Lake Hamilton
The following information is provided at the request of The Nature Conservancy
in the interest of informing the public of this event affecting the local area.
HOT SPRINGS – Weather permitting, The Nature Conservancy plans to conduct a controlled burn on Electric Island in Lake Hamilton tomorrow, Tuesday, May 9. The entire 118-acre island will be involved in the burn. Attached are a map and an interagency flyer on the benefits of prescribed burning. The burn was delayed from an earlier date due to unfavorable weather conditions.
The goals of the low-intensity burn are to reduce wildfire risk and to improve wildlife habitat. Burns have been conducted in the past on the island, which is owned by The Nature Conservancy and is also an Arkansas Game and Fish Commission Wildlife Management Area (WMA). For information call Ginny Porter, Communications Manager at The Nature Conservancy Arkansas Field Office, 501-614-5084.
-30-