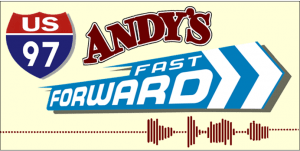 Our Andy's Giveaway has been temporarily suspended due to the coronavirus pandemic. But keep listening, it'll be back soon! 
Win lunch from Andy's!!
Every weekday, listen to Pat O between 2pm and 6pm for US97's Fast Forward Game. Pat will play a short clip of a song at super speed. Be the correct caller, name the song, and WIN! Then go enjoy the heck out of a fantastic Andy's burger. YUM!