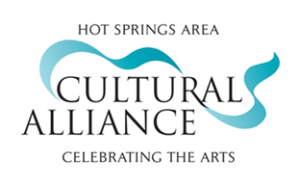 September 17, 2020 – Ten images of original art by Arkansas artists have been selected with the theme Art Moves depicting physical, natural, and social movement. The artwork has been reproduced on 30 x 40-inch metal sheets which have been installed along the Hot Springs Creek Greenway Trail that runs beside Hot Springs Creek.
An artist statement about each piece can be accessed by scanning the QR code that will be adjacent to each work of art, and brochures will be available at the Visitor Information Center located at 629 Central Avenue beginning September 25.
The outdoor exhibit invites viewers to go outdoors to enjoy nature and art during the Hot Springs Arts & The Park Festival, which begins September 25 and runs through October 4.
Visitors are encouraged to take photos of themselves while out moving and enjoying the artwork. Photos can be tagged #hotspringsarts2020 and shared on social media.
Out of the many submissions received, the artists selected for the Art Moves exhibit were Katherine Strause (Big Bang and Jump Rope), Gary Simmons (I Shoulda Known), Kenneth Haley (Out in Front), A. Margarita Peraza-Rugeley (Studio: Woman with Spaces), Hugh Dunnahoe (Walking the Line), Conie Hall (Coy Koi), Dolores Justus (Afternoon Light), Morgan Herndon (Bike Spray), and Jeri Hillis (A Boy Skipping).
Art Moves is presented in partnership with City of Hot Springs Parks and Trails and The Arts Advisory Committee with special thanks to sponsors Arvest Bank and the Arkansas Arts Council.
Arts & The Park, the 10-day celebration of the arts held normally each spring, has been rescheduled this year to run September 25 – October 4 with outdoor and virtual offerings.
Arts & The Park is hosted by the Hot Springs Area Cultural Alliance as part of the organization's mission to celebrate the arts and culture of the Hot Springs area. Visit HotSpringsArts.org for more information about the many virtual and outdoor events that make up Arts & The Park 2020.
For more information, please contact:
Email: mzunick@hotsprings.org
Phone: 501-545-6960