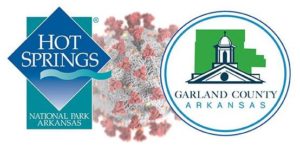 November 11, 2020 – As area nursing home COVID-19 cases begin to decline from the spike in recent weeks, community spread is keeping the number of new cases and the active case count at or near record high levels.
At the Nov. 9 meeting of the Hot Springs/Garland County COVID-19 Task Force meeting, Garland County Health Officer Dr. Gene Shelby shared statistics for Garland County for the week of Nov. 1 – 8. From the 2,146 tests completed in the county during the past week, there was a record high of 218 new positive cases, or an average of 31 per day, for a positivity rate of 10.2%. Shelby said the previous weekly case count record was set in July at 210 cases.
There were 10 deaths reported last week in Garland County. Although some of the deaths may have been reported late from previous weeks, Shelby said the county's high death rate per population "is bothersome, and I am afraid it will continue." The total number of COVID-19 deaths in Garland County is 78, which is the sixth highest among Arkansas' counties.
"Things are bad, and we all need to keep doing what we are doing, particularly the things that we know help prevent the spread of this virus. We are in this for the long haul," said Shelby.
Mitigation efforts include those highlighted by Gov. Asa Hutchinson and Secretary of Health Dr. Jose Romero in the state's strategy for preventing COVID-19 spread this winter, which was posted on the Arkansas Department of Health (ADH) website and sent to the local health units. This strategy includes individual actions, such as adherence to the state's mask mandate and social distancing. According to the strategy document, "Wearing a simple cloth face covering over your nose and mouth helps prevent spreading COVID-19 to the people around you. Talking, singing, coughing, and sneezing all create tiny droplets that can transmit the virus. Masks act as a barrier, decrease the spread of those tiny droplets, and reduce the chances of infecting other people." In promotion of social distancing, it also states, "Maintaining a distance of six feet or more between yourself and others goes a long way toward stopping the spread." Along with these two important actions, "it has never been more important to get a flu shot" and "if we let our guard down, the virus can and will take advantage."
The three area nursing homes hardest hit recently by COVID-19 had their cases drop from 115 to 83 cases last week, but CHI St. Vincent and National Park Medical Center in Hot Springs both reported their coronavirus patient counts either have stayed consistent with last week's increases, or have continued to rise. This includes patients affected from these long-term care facilities.
The distribution in the county showed that the Garland County portion of Hot Springs Village spiked from the previous week's one case to 16 cases as of Nov. 8; Pearcy went from 11 to four cases; and Mountain Pine rose two cases to a total of six.
Cases among those with Spanish surnames continued to be flat with seven current cases, or 2.8% of the county's total case count. The 0-17 group rose slightly to from 6.4% to 7.3% of the county's total.
Only one area school district representative and one from National Park College were able to attend this week's virtual meeting, but both shared that quarantine numbers are continuing due to spread in the community. They said that although the schools are looking forward to the upcoming Thanksgiving break, there are concerns that cases will rise in the weeks that follow, as they appear to be doing following Halloween.
The Garland County Health Unit collected 120 COVID-19 specimen last week. They also administered 46 flu vaccinations, along with completing their school district flu shot clinics. The Garland County Health Unit is located at 1425 Malvern Avenue and is open from 8 a.m. – 4 p.m. on Monday and Wednesday – Friday. Tuesday hours are 9:30 a.m. – 6 p.m. It is recommended to call ahead to schedule COVID-19 testing at 501-624-3394.
The United Way of the Ouachitas (UWO) has received a number of callers requesting the declaration form relating to the Centers for Disease Control's temporary halt on evictions to help slow the spread of the virus. The UWO's application for COVID-19 assistance for area families and individuals affected by the pandemic is online at https://www.unitedwayouachitas.org/covid-19-application. To donate to the COVID-19 Relief Fund, visit www.bit.ly/UWO-COVID, call 501-623-2505, or send a check by mail at 233 Hobson Avenue, Hot Springs, AR 71913.