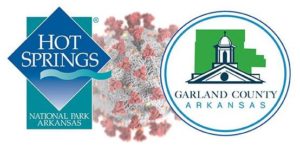 December 15, 2020 – Several COVID-19 statistics for the week of Dec. 6 – 13 in Garland County far exceeded previous record highs, according to Garland County Health Officer Dr. Gene Shelby at the Dec. 14 virtual meeting of the Hot Springs/Garland County Covid-19 Task Force.
Among the record-setting stats were the number of deaths, 17, the number of positives plus those under investigation, 515, and the number of new cases reported during the week, 449. Shelby referenced a graph he presented to the Garland County Library on Dec. 10 that illustrated the post-Thanksgiving holiday rise in active cases for the county, describing it "off the charts." This past week, the active case count exceeded 500 for the first time since the start of the pandemic. His presentation can be seen on the library's Facebook page at www.facebook.com/garlandcountylibrary.
"It is a sad situation. As far as anything we can do about it beyond what we have been doing, it is so widespread that there is not going to be one simple solution. Everyone has to continue to be vigilant," said Shelby. "There is going to be a lot of talk this week about the vaccine, which I think is real important, but it's not going to affect our numbers for probably three or four months until we get widespread vaccination. I am concerned that people will think we have the vaccine so we don't have to worry about things anymore, but that is really not the case."
Arkansas received its first shipment of vaccines on Monday, Dec. 14, but this first allotment will not be enough to cover the highest priority recipients – healthcare workers then residents of long-term care facilities. The Garland County Health Unit does not currently have COVID vaccinations available for distribution. The health unit has received several calls asking if COVID vaccines are available there.
Several members of the task force shared they have recently seen people not wearing masks while out in public, adding they were "shocked" and that, at this point, it is "inexplicable." County Judge Darryl Mahoney commended Walmart for closing their Albert Pike location for cleaning and disinfecting Friday afternoon through Saturday.
The number of tests from the county last week totaled 2,804, and the rate of positivity was up from the past three weeks at 16%. There are 121 cases in the 65-and-older age group, or 23.5% of Garland County's cases, up from 79 cases/19.5% from the previous week. The 0-17 age group also increased from the previous week's 55 cases/13.5% to 75 cases/14.6% last week. The number of healthcare workers with COVID-19 rose from 24 to 30.
Distribution across the county shows that Hot Springs Village dropped to 28 active cases from the previous week's record high of 30; Lonsdale continued to climb from nine to 24 cases; and Jessieville tripled from five to 15 cases.
CHI St. Vincent and National Park Medical Center again reported their numbers have remained steady.
The Hot Springs/Garland County COVID-19 Call Center (501-760-4307) and school district administrators/contact tracers continue to communicate the recent amendments to the quarantine guidelines by the Centers for Disease Control and Prevention (CDC). The safest option for quarantine for individuals considered to be close contacts of known positives continues to be 14 days. However, the new guidelines allow for abbreviated quarantine lengths for those who have no symptoms. Such an individual can end their quarantine after day 10 if they remain without symptoms, returning to work or school on day 11. Furthermore, the quarantine can end after the seventh day (i.e., return to school/work on day eight) if there are no symptoms and a negative test result. In this case, the PCR or antigen test specimen should be collected no sooner than five full days after the individual's exposure.
The Garland County Health Unit collected a total of 171 COVID-19 specimens last week. Those wishing to be tested are advised to call ahead to schedule an appointment at 501-624-3394. When arriving for an appointment for COVID-19 testing, individuals should park their vehicle in a parking space reserved by a numbered cone, stay inside their vehicle and call to inform the representatives which number is indicated on the cone. Flu shots are provided by the Garland County Health Unit on a walk-in basis. The Garland County Health Unit is located at 1425 Malvern Avenue and is open from 8 a.m. – 4 p.m. on Monday and Wednesday – Friday. Tuesday hours are 9:30 a.m. – 6 p.m. The health unit is hosting a COVID-19 testing event on Dec. 15 from 4 – 7 p.m. in their parking lot. There is no out-of-pocket cost for testing done at the health unit, whether it be during the clinic's normal business hours or during a testing event.
City Manager Bill Burrough and Judge Mahoney expressed concern over the rise in cases. Both city and county government operations have been affected recently with an increase in quarantined staff. Burrough reported that the city's Engineering Department should reopen this week after having to close due to staff exposure. He said city departments may shift to alternate work schedules after the holidays to make sure a whole department will not have to be closed again. Mahoney said the county is trying to get their offices back to full staff in case they have to move to half- or split-shifts. Both the city and county have added disinfecting machines to their respective departments.
The United Way of the Ouachitas has an application for COVID-19 assistance for area families and individuals affected by the pandemic online at https://www.unitedwayouachitas.org/covid-19-application. To donate to the COVID-19 Relief Fund, visit www.bit.ly/UWO-COVID, call 501-623-2505 or send a check by mail at 233 Hobson Avenue, Hot Springs, AR 71913.