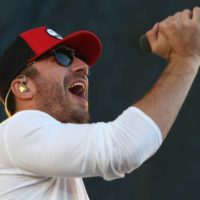 Sam Hunt is heading to Cancun, Mexico for spring break next March, along with Parker McCollum, Nelly, The Band Camino, Surfaces, Tai Verdes, Lily Rose, Shy Carter and Connor Smith, for "Casa Fiesta Featuring Sam Hunt and Friends," set for March 14-18, 2022.
The five-day experience, presented by tech company Pollen, will include performances on the beach near Cancun's hottest clubs, activities, pool parties, add-on excursions and much more. Dan Merker, Head of Country & Rock Content for Pollen, said in a statement:  "We're excited to work with Sam to curate such a unique and intimate experience for his fans, especially with a line up of contrasting genres that brings everyone together for a fun party on the beach."
Local COVID protocols and guidelines will be observed. More information can be found here.
Editorial credit: Debby Wong / Shutterstock.com