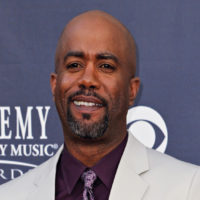 Darius Rucker held his 13th annual "Darius & Friends" benefit on June 6 at the Ryman Auditorium, bringing together a sold-out audience with at-home fans watching via live stream. The concert was benefit concert followed by his corresponding golf tournament and silent auction on Tuesday, June 7.
This year's event raised an all-time high of $516,000, bringing the total raised to over $3 million for St. Jude Children's Research Hospital. Rucker shared with the sold-out crowd, "I'm talking to one administrator and she said, 'When you bring your kid to St. Jude, we fly you in, we put you up, we feed you and we never send you a bill.' I started talking to people there and it's true. That day I said, I want to do something to help. I'm doing this for St. Jude–thank you guys for coming out!"
The benefit concert is famous for its surprise lineup of stars, and this year's performers included Sheryl Crow, Lindsay Ell, Sara Evans, Caylee Hammack and Rachel Wammack.
Editorial credit: Amy Nichole Harris / Shutterstock.com