Pat O'Briant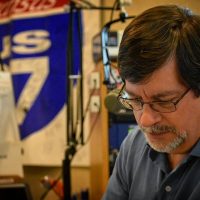 Pat O'Briant is a man of many talents, and has had a full career in radio. Pat has broadcast all over the USA, but finally fulfilled his dream of returning to Hot Springs radio.
While he loves to reminisce about the good ol' days of radio, when there were reels and tape and carts and all kinds of equipment the rest of us have no clue about, he's a huge lover of all genres of music. For that reason, we tolerate his "way back when…" rants.
Pat is a husband, a father, and a cat lover. He seriously loves cats. Like obsessed with them. Almost as much as he's obsessed with old radio junk and vinyl records. Maybe even more, depending on the day.
Let Pat O entertain you through the afternoon each weekday, he'll bring you on home through your commute!