Tom Duke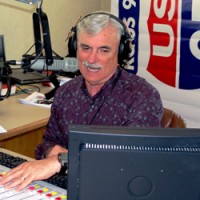 47 years in radio
32 years on US97
1 Reserved Parking Space
100's of Country Music artists
1000's of Country Music factoids
= 1 PRICELESS Country Music Radio Career!
Tom Duke has been the voice of US97 for over three decades! With his long career in country music, he is well known and well respected in the music industry. Just name a Country Music artist, and he'll likely have a story for you about how he met, hung out, drank, went fishing, or jammed with them. Tom has an impressive collection of guitar picks, artist demo cd's, plaques, awards, and Big Fish stories. Soooooo many fishing stories.
Catch Tom Duke each weekday for the latest in country music news, and get some incredible hunting and fishing advice from him in the Trader Bill's Fishing Report.