US97 Wake Up Crew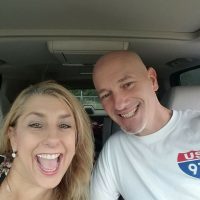 US 97 Wake Up Crew
The US97 Wake Up Crew consists of the only two whackadoodles not in captivity.  Vicki Parker and Jarrett Jackson make sure to start your day with at least 2 "They said what?" and a minimum of 3 milk-spewing-through-the-nose laughs.
Vicki and Jarrett are both born and raised right here in Arkansas and yes…they ALWAYS have their snouts ready to throw on and call the HAWGS!
Jarrett is a single dad to two awesome kids (that's what they told him to say). He decided radio was for him after an extensive and dazzling career in the hush hush world of Pickle Packing.  He doesn't like to talk about his "other life" that was filled with groupies and gherkins.  We think he's the real "dill." He can often be found paddling around the lakes in his kayak aptly named "Pickle Prince 1".
Vicki is the loud wild child, and the Say Anything member of this dynamic duo.  Rumor is, she was once a tennis star and spent a year on the road with an unnamed rock God until her heart heard country music and well…the rest is history.  She just couldn't say no to the passion of that dang twang thang.  She's the guru of Margarita mama's everywhere and she's usually found treasure hunting and getting "junk drunk" on the weekends.
Tune in at 97.5 at your own risk, every weekday from 6am-10am